Pattern-Making Basics | How to take Body Measurements
This post has been updated and re-written on my new website,
HERE.
When you want the freedom to sew your own clothing, it is so important that you know your accurate body measurements. Inevitably, whether you want to know or not...you will need to determine your size. You'll start with an existing pattern or garment and intimately knowing your bodies shape and size makes all the difference when it comes to having the freedom to make design, fit, and style adjustments. Accurate measurements are essential to making sure your finished pieces fit you perfectly!
Are you ready to take your home sewing to the next level?!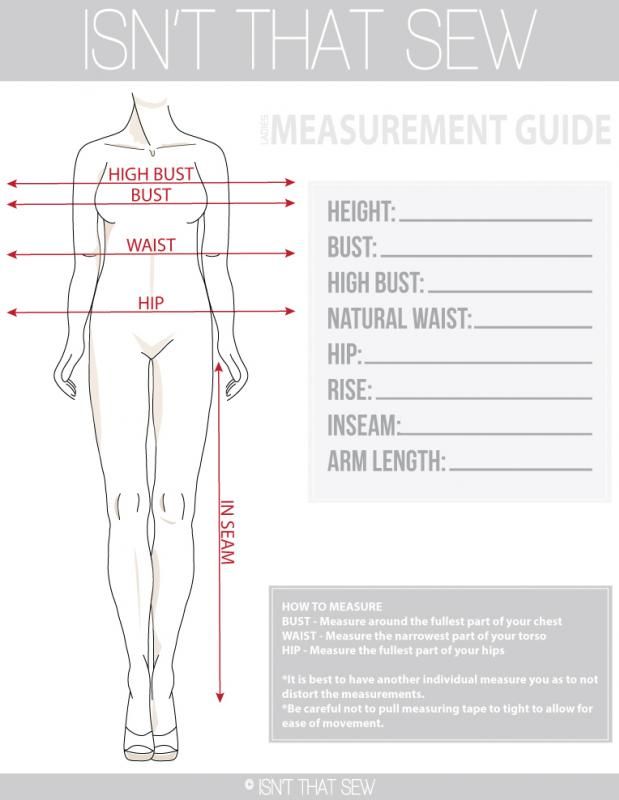 Tips
Have someone else take your body measurements. This will ensure the measurements are accurate. Trust me...contorting your body to get the measurement does not yield accurate results!
Wear next to nothing, or maybe just your underwear. This will give you true measurements.
Use a flexible tape measure, like this one from Dritz. And measure loosely, meaning do not pull the tape so tight that your clothing would be uncomfortable.
Print the free Isn't that Sew Measurement Guide to keep track of your body measurements.
How to take Body Measurements
Height:
Stand with your feet slightly apart and your back against a wall. Have a helper measure from the floor to the tip top of your head.
Bust:
Relax your arms at your sides, measure the fullest part of your bust, keeping the tape parallel to the floor.
High Bust:
Again, relax your arms at your side and measure just above your breasts.
Waist:
Measure loosely around your natural waist. Your natural waist will be between your belly button and your rib cage.
Hips:
M
easure the fullest part of your hips and back side, making sure to keep the tape level. Again, make sure to measure loosely.
Rise:
H
olding the tape at the center back of your natural waist. Run the tape between your legs, pulling comfortably at the crotch, and up to your natural waist in front.
Inseam:
Measure from your crotch to the bottom of your ankle. You can also measure the inseam of your best fitting pant to get your inseam measurement.
Arm:
Bend your elbow 90 degrees and place your hand on your hip. Hold the tape at the center back of your neck. Measure across your shoulder to your elbow, and down to your wrist. The total length in inches is your sleeve length.
If you found this post
helpful
, please SHARE, COMMENT, or PIN it!
Labels: body measurements, Pattern Drafting, pattern making, sewing, sewing basics